Health
Top 10 Best Deodorant to spray all around you!
Are you a deodorant connoisseur? If so then you most have puzzled most of the time regarding the best deodorant for you. If you are unable to choose the best deodorant for your body, you will push yourself in a big trouble. Bad or frequent use of deodorant may lead you to Skin Allergy, Itching or other Skin Diseases. So, its so important to choose the best one for you. Here are the list of 10 best deodorant ever:
1. CAPTAIN BLAKENSHIP
Arrowroot helps this lime and vetiver cream dry to a powder finish, so you won't feel like there's frosting gluing your arms to your sides,
[next]
2. DEGREE
Specially designed to not leave white streaks on your black T-shirts, nor yellow stains on your white ones.
[next]
3) DOVE
A fan favorite for the "Oooh, that's me" scent (in a good way). And you've known about its staying power since seventh-grade phys ed. [next]
4) DR. HAUSCHKA
Contains no aluminum, and, despite the name, smells less of rose-garden rose than "wild rose that grows amongst your herb garden if the sage weren't sad and half-dead."
[next]
5) ETIAXIL
French women don't sweat (haha) because they wear this extra-strength, unscented antiperspirant.
[next]
6) LA ROCHE POSAY
Another Frenchie roll-on sans aluminum and avec a clean scent certain parts of the beauty community call "a revelation."
[next]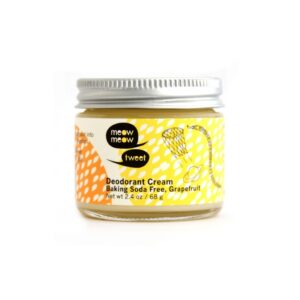 7) MEOW MEOW TWEET
Made our top-five natural deos for its baking-soda-free formula (no irritation here) and lemon pie scent, hum.
[next]
8) PIPERWAI
Even though it's a cream you will, yes, have to touch your armpits to apply, this stuff won't let you down in the keeping-you-fresh department—nor will it transfer. Promise.
9) SOAPWALLA
It's organic. It's vegan. It's what Emma Watson slathers on her pits.
[next]
10. WELEDA
If you're none to keen on massaging messy creams into your underarms, go for this lemony spray, which promises to aid "your body's natural detoxification process." Cool!