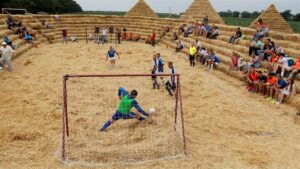 Russia is desperate to control its spending on the 2018 World Cup, and a farmer might just have the answer straw. In a project straight out of the "Three Little Pigs" fairy tale, Roman Ponomaryov has built a straw replica of the 43 billion ruble ($700 million) stadium in St. Petersburg which will host World Cup semifinals.
His arena made of 4,500 straw bales comes with tiered seating for 300 and flagpoles. It hosted its first tournament _ for local teams only _ last weekend using modified soccer rules. "It's good to get people excited and create a sports atmosphere ahead of the World Cup," Ponomaryov said in a recent interview.
The real St. Petersburg Stadium has drawn ire for its cost, corruption scandals, delays, and workers' deaths. Ponomaryov is a fan of the Zenit St. Petersburg club and says he modeled his straw Stadium on Zenit's new home in a gentle dig at the problems around the construction. "It seemed pretty strange … how the cost of the stadium and its construction time frame were increasing," he said.
Russia's total World Cup budget is around $10.7 billion. Zenit has accepted the straw stadium with good humor,offering Ponomaryov a ticket to a game at the real thing. The harvest will keep him on the farm for the next few weeks, though, and he has in mind another project _ organizing a Straw World Cup.